By Savannah Sherwood August 9 at 3:29pm CDT
Houston, we have a problem. One of the fundamental questions of humankind is whether or not there is life on other planets. For NASA to explore the depths of the Red Planet and the rest of the Solar System, it is necessary for technology to be developed that sterilizes new rovers, without damaging any electronics, instruments, or function. NASA recently posted a job vacancy for a planetary protection officer. Warding off aliens (tiny microbes from Space) and protecting other planets from Earth-based bacteria is a task that has intrigued the masses, including 9-year-old Jack Davis.
"Dear NASA, My name is Jack Davis and I would like to apply for the planetary protection officer job. I may be nine but I think I would be fit for the job," Jack wrote.
James L. Green, director of NASA's Planetary Science Division, sent an immediate letter responding to Jack's application. "We are always looking for bright future scientists and engineers to help us, so I hope you will study hard and do well in school," Green wrote. "We hope to see you here at NASA one of these days!"
Jack may not have the credentials or pedigree to be employed with NASA just yet. However, in the meantime, he is perfectly qualified to be apart of the solution that helps NASA fight off the alien contamination that is preventing further discovery in space.
Dear Jack,

HiddenGenius has an excellent mission for you! We are launching a Mars Rover Sterilization Competition. Imagine a space video game, becoming reality. You can be one of the main players! The goal of the competition is to find a new technology that will sterilize the Mars Rover. This technology will change the history of our species, but what is even cooler, is that anyone can help, not just the experts.

With the support of your parents, we invite you to be a guest host for this competition. This position is an important one, and we are confident you have what it takes! A young person, who can think like an alien… That alone is an outstanding characteristic that sets you apart from most! Will you help us find life on Mars and beyond?

Sincerely,

The HiddenGenius Team

support@hiddengenius.com
We are calling on all space enthusiasts, engineers, visionaries, innovators, and the rest of humankind to unite and ignite this competition. Let's build the prize purse, shape the goals of the competition, and attract the HiddenGeniuses around the world to compete and deliver a solution!
What if the technology developed for this competition could then be used to sterilize other things, such as hospital rooms here on earth? This technology has the potential to find new life on other planets and save lives here on Earth, and we want you to be apart of this mission. Here at HiddenGenius, we are optimists. We are firm believers that anyone can help contribute to the next great innovation. The galaxy is the limit!

"There's a force in the universe that makes things happen. And all you have to do is get in touch with it, stop thinking, let things happen..." – Ty Webb
Let's get in touch with that force and help NASA find life on Mars! Ready... set... blast off!
By Savannah Sherwood July 3 at 9:45am CDT
What if the life of someone you love was saved because of a simple app competition sparked by a doctor in California and the advocacy efforts of a mother in Ontario?
On the afternoon of March 12, 2016, routine and normalcy lingered through the air as Melissa Sheldrick, wife and mother of two, ran her weekend errands.
Her mental to-do list included a stop by the pharmacy to pick up a prescription for her 8-year-old son, Andrew.
Diagnosed with a sleep disorder called parasomnia, Andrew began taking a daily dosage of Tryptophan in 2013. Trips to the pharmacy were routine, as his prescription needed to be refilled every two weeks.
Once Sheldrick returned home, she placed the medicine in the refrigerator and proceeded to walk further into her typical Saturday afternoon.
As the evening began to draw in, Andrew was given his daily dosage of medication before running off to bed.
The sun returned to it's resting place, as did the Sheldrick family, nestled in their home near Toronto, Ontario.
The following morning, devastation crept into their lives, as their little boy did not wake from his sleep.
"His dad went to wake him up and found him dead. The police said he had been gone for several hours," Sheldrick said.
Grief and confusion instantly enveloped the Sheldrick's home. Immediately after the death of their son Andrew, the police opened an investigation.
"They took the medication bottle. We thought it was the last possible cause. Maybe it was a congenital heart defect, or maybe Andrew had a brain aneurysm," Sheldrick said. "It took four and a half months before we found out what had happened."
The coroner's report concluded that the prescription Andrew had taken was not Tryptophan, the sleep medication he was prescribed, but instead was Baclofen.
Baclofen is a muscle relaxant used to treat muscle spasms in conditions such as multiple sclerosis. "Andrew had taken three times the lethal amount for an adult. There was no trace of his sleep medication," Sheldrick said.
After juxtaposing the pieces together through an investigation, the Institute for Safe Medication Practices Canada discovered that the error occurred within the independent compounding pharmacy.
It seems that many things in life have the ability to teeter back and forth between two dichotomies. In a matter of moments, something that is seemingly good can produce something bad, and vice versa.
Medicine, a compound used for the mere purpose of bringing healing and treatment to a body can also become the product of pain and sorrow through even the simplest of mistakes.
According to ProPublica, medical errors are the third leading cause of death in the United States. Andrew's story illustrates that this is a widespread, global issue.
"You can't eliminate human errors, but there are ways you can minimize them," Sheldrick said.
Yes, the alarming statistics are current reality. However, there are people in all corners of the world committed to finding ways to reduce these fatal and devastating errors, including Sheldrick herself.
A UCLA physician, Dr. Robert Shpiner, has also grown frustrated after continually observing the occurrence of unintentional and harmful interactions of prescription drugs and supplements. Rather than allowing his frustration to fester from within, he decided to take action against the issue. He has sparked a HiddenGenius technology competition: MedPic Prescription Drug App.
The competition is calling for HiddenGeniuses around the world to race to develop and demonstrate a simple app that will reduce drug interaction errors.
The application must have the capability of photographing the medical bottle, label, and pill, create a list of current and past medication and supplements, alert for drug interactions, is widely adopted and is easily shareable among patients, family, caregivers, doctors, and pharmacists.
Medication errors are a multi-faceted issue. They occur within homes, hospitals, nursing facilities, pharmacies, etc. Whether it is an error due to the packaging, drug administration and dispensing, or negative interaction between two drugs, the consequences can all be harmful and even fatal.
This competition cannot reduce all types of errors. However, it can take a measurable bite out of serious drug interaction problems and possibly save someone's life. Maybe some HiddenGenius out there can code it in their basement?
The responsibility of ensuring medication safety does not lie in the hands of one person: we are all responsible. "The more safeguards that we can put in place, the better," Sheldrick said.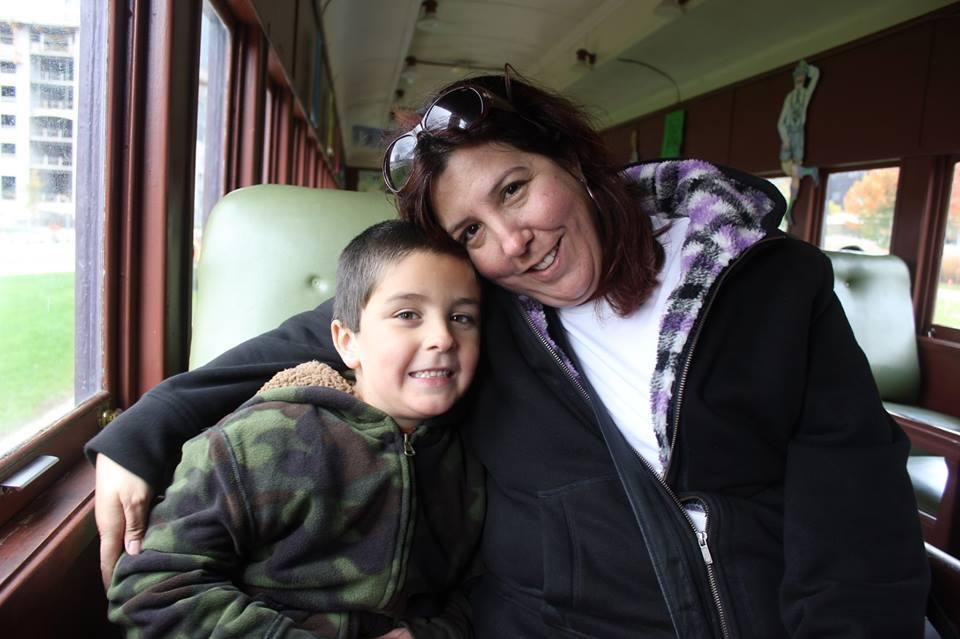 A full-time wife, mother, and teacher. A part-time advocate. Sheldrick has navigated a whole tribe of people, spanning the globe, who have joined in her efforts of educating and raising awareness on this issue.
"It is the only way that I can do anything in the situation that I obviously have no control over. It is a feeling of being productive," Sheldrick said. "Nothing I do is going to bring my son back, but I feel that if we can save the heartache of one family, then I have done my job."
Their little boy who loved to play soccer, Xbox, and swim will always be remembered for the life, energy, and love that he scattered everywhere he went. "Andrew had many friends. He had a persona at school and was known to be the caring little boy looking out for the kids that were struggling," Sheldrick said, as she reflected on the day that turned their world upside down.
Dr. Shpiner funneled his experience with patients into sparking the MedPic Prescription Drug App competition.
The tragedy that the Sheldrick family has experienced since March 13, 2016, certainly magnifies the importance of safe medication practices- within hospitals, pharmacies, and in homes.
"There are so many different features that an app could have that would be beneficial," Sheldrick said.
The competition is to serve as a catalyst, speeding up the process of finding this specific technology. There is no time to waste.
"Think about seniors or people that are chronically ill that have to take five or six prescriptions a day. Being able to have those medications organized in the palm of their hands would be great," Sheldrick said.
Trevor McKeeman, founder, and CEO of HiddenGenius is confident that this app would help his 94-year-old grandfather and many other families around the world. "Last year my grandfather had eye surgery, and his med list included a drug that could have been very harmful if we hadn't caught it. An app like this would help multiple family members and doctors keep track of his current and historical medication list, which has been difficult," he said.
Action must be taken to ensure that this issue is diminished.
We need passionate people, like Dr. Shpiner, to stand up and rally behind this competition by sponsoring and sharing with their community.
We need advocates, like Sheldrick, that are committed to seeing systematic change and technological advancements that will save the lives of people across the world.
We need you, your powerful voice, to join Dr. Shpiner, the Sheldrick family, and the many others who are determined to find ways to combat the widespread and multi-faceted issue of medication errors.
Join the forces at HiddenGenius.com and help support the development of this technology by sponsoring the prize and attracting innovators to tackle the challenge, win the competition, and deliver technology that saves lives.
Visit Andrew's Allies Facebook Page to learn more about Sheldrick's advocacy efforts and ways you too can leverage your voice!
If all voices join forces to become one loud voice, systems will be changed, new technology will be developed, and lives will be saved.
By Savannah Sherwood June 29 at 11:16am CDT
A fight for the future of the drone industry
The AC/DC song Back in Black started blaring through the speakers... It was loud, engulfing the convention center and grabbing the attention of hundreds of drone industry leaders, instantly. Days of sessions about drone regulation had just been transformed into what now seemed like the opening of a major sporting event. Engineers, researchers, politicians, and CEO's crowded around a netted cage to watch a battle. Only this one was with drones.
The drones weren't fighting each other. Instead, they were fighting for the future of the drone industry. Competitors were there to demonstrate sense and avoid technology. This technology is the last layer of defense helping drones to avoid things like airplanes, people, buildings, etc. We won't see drone package delivery without it.
The UTM convention (initially started by NASA) and hosted by the Air Traffic Control Association, CenterState CEO, Gryphon Sensors, and others asked HiddenGenius to run a preliminary sense and avoid tech competition. Even with a short lead time, teams from around the world were interested.


Each competition leads to a remarkable story
Traveling 1,166 miles, Aerotenna, a drone company from Lawrence, KS proved that their drone technology had the capability to avoid a dynamic target in their line o
f sight. It was a great surprise to see an unfamiliar company declare the task accomplished, taking home the prize money.

The results of the first HG drone competition added validity to the mission that drives our startup. We believe that the competitions are a great success when
an unknown person or company develops a technology that can shape the future and improve the lives of millions. Our HG community is happy to provide the visibility and support to ensure such success.
HG values the relationships built with the winning teams
Nearly seven months have passed since HG's first SAA drone competition, so we decided to pay our friends at Aerotenna a visit to learn about their current projects and pursuits.
"The HiddenGenius competition has brought a lot of things to our company, both internally and externally," said Zongbo Wang, co-founder, and CEO of Aerotenna.
Founded in 2015, Wang had a vision for the company to "define the future of the UAV/drone industry by contributing valuable new technology and ideas to the flying industry." This vision cast in 2015 continues to guide the work of Aerotenna.
One of the benefits of a technology competition is recognition and increased support, but it also helps to build a company's morale.
"We were able to show and demonstrate, in real life, that our technology can do the job. A lot of people started to ask how they could use and integrate our technology with their applications," Zongbo said.

Drone sense and avoid technology is a crucial piece for the industry to move forward. "Drone safety features need to be well-addressed. I am happy that a lot of people have started to pay attention and investigate this technology," Zongbo said.
Aerotenna is currently working on several exciting projects. It is their goal to help advance the world of technology not only by developing drone technology but also robotic technology in ground-based vehicles, such as cars. You can learn more about their current projects by following them on Facebook @aerotenna and connecting with them on LinkedIn.
HG announces larger SAA competition
HG has announced a larger drone sense and avoid competition. This competition will have a much larger prize for tackling the critical challenge of drones sensing and avoiding low flying aircraft. HG is partnering with leading sponsors and is exploring hosting venues. For basic information about supporting the competition as a sponsor or competing in the event visit HiddenGenius.com or email support@hiddengenius.com.
By Savannah Sherwood May 24 at 7:45am CDT
Sitting in his sun-dried brick house in the Sahara Desert, a man named Mostaphã found himself getting lost in his thoughts. With a great sandstorm brewing just on the other side of his door, he pondered the few ways he was going to be able to leave his house and embark on a journey to the nearest neighboring village. The air, thick of sand, creates little visibility and is dangerous to travel through. "If only I had a submarine that would transport me underground beneath the sand dunes," he joked.
Being forced to spend the day indoors, he looked around and noticed the particles of dust permeating the air. With each deep breath brought an influx of dust particles into his lungs. Sighing even louder, he thought, "I wish there were a device that filtered the dust particles floating in the air of my home."
Desert dust can cause irritation and inflammation in the lungs, with increased symptoms for individuals that have asthma and other respiratory diseases. As technology advances, it is necessary for the development of better and more affordable air filters to help diminish the problem that faces Mostaphã and many other individuals.
The ideas sparked within Mostaphã's troubled mind were then compartmentalized, as he was unaware of the possibility that these devices could potentially be a reality.
Mostaphã is a good friend of mine, living in the heart of the Sahara Desert. These are real ideas that he shared with me during a recent conversation while I was traveling in Morocco.
Imagine if these thoughts didn't have to sit dormant in his mind, but instead, could be shared with the world, a world that is occupied by millions of innovators, engineers, creators, students, and dreamers just like him.
What if Mostaphã's ideas were sparked on an online platform and became competitions open for individuals in all corners of the world to participate and compete?
What if his sparked idea had the following responses?
Imagine if one afternoon, in a board meeting, a team of engineers in California became aware of this competition. Inspired by the potential impact that the technologies could have on the lives of many living in Africa, they decided to pool together their brainpower and resources, striving to discover a solution and new technology that would eliminate the dust particles that linger in the African homes after a sandstorm.
In the meantime, a brilliant college student in London is working to wrap his intellect around this competition to see if he can't find a solution himself. The crowds, individuals who don't necessarily have the expertise, are cheering on both parties.
The intensity increases as the crowds begin to shape the rules of the competition and starts pitching in money to establish a prize purse for the winner. Before you know it, a scrappy team from Spain learns of the competition from national media sources and proves that they have the solution, winning the prize money.
Here, we have a stage. On this stage are Mostaphã, a man from the Sahara, some individuals who sponsored and shaped the competition, the scrappy team in Spain who discovered the new technology, and a large population of people that benefit from the new technology.
An exciting happening such as this is a reality. HiddenGenius, a community originally based out of Kansas has created a platform that allows anyone in the world to request or spark a technology that would improve their life or the life of someone else. Technology competitions help to level the playing field and certainly keep everyone on the edge of their seats as they watch hidden geniuses around the world competing for the prize purse and media recognition.
Competitions date back centuries. In 1714, the British Government set up a competition for longitude to be measured at sea. Ten thousand pounds as a prize, astronomers and mathematicians raced to find a solution. In 1737, the Board gave the award to John Harrison, a clockmaker, who proved that he had a solution to the problem of longitude. Many success stories show competitions can be the fuel to significant innovations.
What makes HiddenGenius unique is that the crowd gets to help design the goals and rules of the competition and play a direct role in raising the prize sponsorship. Anyone can participate, not just some sort of academic "expert."
There is a great potential that you, yes you, have something to offer that no one else in the world has. You could be holding the solution to a problem that you may not even know exists. Check out the challenges to see where you might fit in. Whether you compete in a HiddenGenius competition, spark an idea, shape the rules, or help sponsor the prize purse, we are happy to have you join us, a community that is empowered to improve our world for the better through ingenuity. Game on.
(Photos by Savannah Sherwood, the Sahara Desert in Morocco)